ETU Initiative Conference: how can the ETU support your energy transition?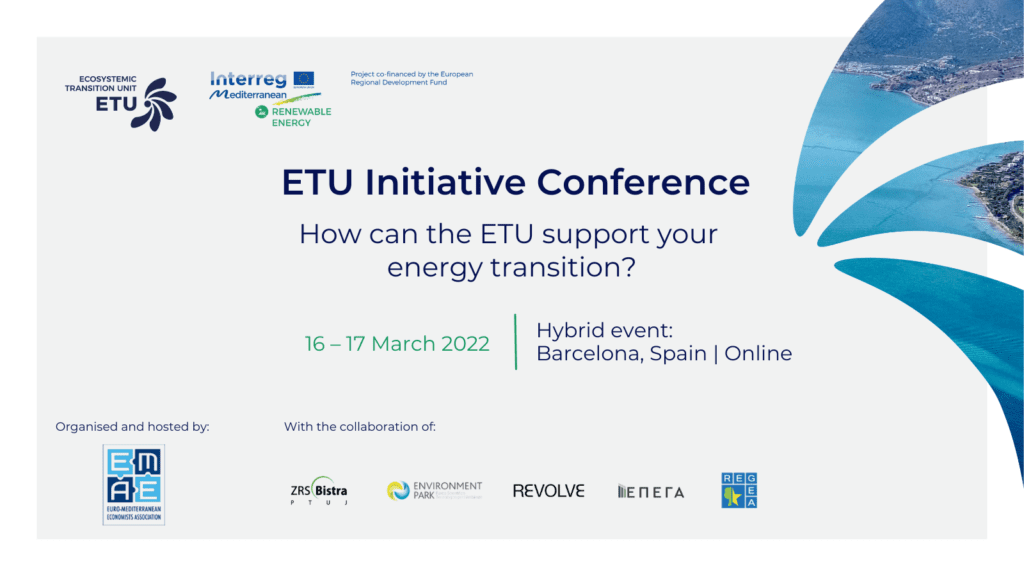 16th and 17th March 2022
Hybrid: Barcelona and online
On the 16th and 17th March 2022, the Euro-Mediterranean Economists Association (EMEA), partner of the Interreg MED Renewable Energy project, is organising and hosting a hybrid conference to showcase and disseminate the ETU Initiative. Participants can join either in person in Barcelona, Spain, or connect to the sessions online.
The conference will bring together renewable energy experts and representatives from the ETU Initiative's Flagship Case municipalities, to explore topics such as the potential of renewable energy communities to reduce energy poverty, methods for financing the green energy transition, how to develop Sustainable Energy Action Plans (SECAPs), how to optimise biomass production, and plenty more. Expert panels and interactive sessions will be accompanied by networking opportunities, bringing together like-minded organisations and inviting them to join the ETU Initiative by supporting its Manifesto and Letter of Commitment.
Agenda
Day 1 Wednesday 16th March 2022
Institutional welcome
Danilo Ceh • Project Manager, BISTRA (Interreg MED Renewable Energy Lead Partner)
Rym Ayadi • President, Euro-Mediterranean Economists Association (EMEA), (Interreg MED Renewable Energy project partner)
Nicolas Garnier • Project Officer, Interreg MED Programme Joint Secretariat
KEYNOTE PANEL
Energy Transition in Rural and Island Areas: Challenges and Opportunities
• Moderator: Kostas Komninos • General Director, DAFNI
Grammenos Mastrojeni • Senior Deputy Secretary General, Union for the Mediterranean (UfM)
Julije Domac • President, FEDARENE online
Jesús Pulido • Head of DG Infrastructures, Spanish Ministry for the Ecological Transition and the Demo- graphic Challenge
Lisanne Raderschall • Policy Analyst, Organisation for Economic Cooperation and Development (OECD)
Alberto Giaconia • Researcher and Project Coordinator, ENEA
What's the ETU Initiative about?

Cynthia Echave • Project Coordinator, EMEA
ETU Initiative Flagship Cases: Experiences and Lessons Learnt
• Moderator: Alexia Boulanger • Project Developer, Environment Park
Bruno Cicero • Technical Officer, Municipality of Ragusa, Italy
Antonio Lecha • Climate Change and Green Buildings Office, Municipality of Onda, Spain
Manos Kamilakis, Katerina Margariti online • ETU Flagship Case Naxos, Greece
Branimir Greguric • EU Funds Associate, Municipality of Brdovec, Croatia
EXPERT PANEL:
Resilient Communities and Territories: Planning, Financing and Governance
• Moderator: Kostas Komninos • General Director, DAFNI
Beatriz Camacho Ávila • Ecosystem Manager, Regional Innovation Scheme, EIT Climate-KIC
Francesc Ribera Grau • Manager, Catalan Energy Efficiency Cluster
Jordi Pascual • Researcher, Catalant Energy Research Center (IREC)
Nuri Palmada • Project Developer, Som Energia – REScoop online
Mauricio O'Brien • Regional Development Manager, European Crowdfunding Network (EUCN)
ETU PILLARS PARALLEL SESSIONS Not live streamed
---
Coffee break and ETU Initiative info session
Day 2 Thursday 17th March 2022
Welcome
Danilo Čeh • Project Manager, BISTRA (Interreg MED Renewable Energy Lead Partner)
Cynthia Echave • Project Coordinator, EMEA
KEYNOTE SPEECH
Sustainable Transition Initiative and financing the transition
Rym Ayadi • President, EMEA
EXPERT PANEL
Governance and Cooperation in Mediterranean and Africa
• Moderator: Rym Ayadi • President, EMEA
Alessandra Sensi • Head of Sector, Environment and Blue Economy, UfM
Rosa Surinach • Partnerships, Advocacy and Outreach Coordinator, UN-Habitat
Octavi Quintana • Director, PRIMA Secretariat
Curzio Cervelli • Coordinator, Interreg MED Programme Joint Secretariat online
Moubarack Lô • Director General, Bureau of Economic Prospective, Senegal online
EXPERT PANEL
Capacity building and knowledge transferring in Mediterranean and Africa
• Moderator: Cynthia Echave • Project Coordinator, EMEA
Alessandro Miraglia • Networking and Communication Team Lead, Regional Activity Centre for Sustainable Consumption and Production (SCP/RAC)
Josep Canals • Director, MedCities
Roger Albinyana • Managing Director, IEMed
Djiby Thiam • Professor of Economics, University Cape Town online
Sherif Dawoud • Deputy Head, Egyptian Ministry of Planning and Economic Development online
ONLINE SESSION:
Sustainable finance
• Moderator: Rym Ayadi • President, EMEA
Nagla Bahr • Credit Guarantee, Egyptonline
John Kofi Adomakoh • GCB Bank Plc, Ghana online
Kwame Sarpong • KPMG, Ghana (tbc) online
Ralph Chami • Co-Founder, Rebalance Earth online
Chuckwumerije Okereke • Director, Center for Climate and Development University Ndufu-Alike, Nigeria online
DISCUSSION GROUP 1 Not live streamed
Territorial Resilience
• Moderator: Cynthia Echave • Project Coordinator, EMEA
Discussants:
Rosa Surinach • UN Habitat
Oriol Barba • MedCities
Consuelo Varela • Polytechnic University of Madrid
DISCUSSION GROUP 2 Not live streamed
Green Transition
• Moderator: Yara Saab • Coordinator of Operations, SCP/RAC
Discussants:
Albert Palou Vilar • BETA Tech Center
Flora Leroy • CPMR Intermediterranean Commission
Mauricio O'Brien • EU Crowdfunding Network
Plenary session and wrap-up