Energy transition for remote rural areas and islands in the Mediterranean region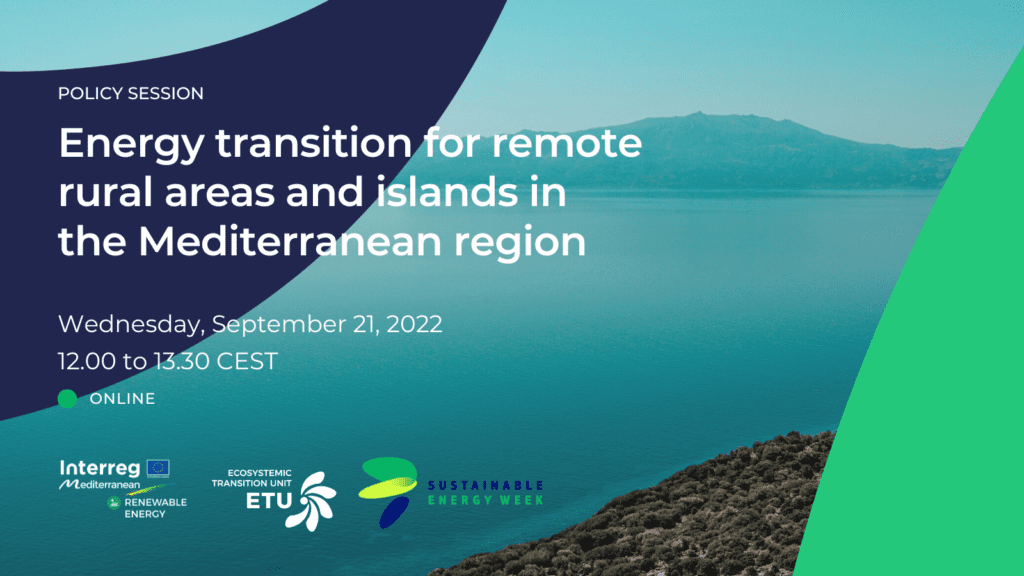 Wednesday, 21st September 2022
12:00 – 13:30 CEST
Online
The Interreg MED Renewable Energy Community will participate in the EU Sustainable Energy Week (EUSEW) 2022 organising a roundtable on the 21st of September on energy transition for remote rural areas and islands in the Mediterranean region.
The session will assess strategies for utilisation of renewable energy potentials in disadvantaged regions of the European Union using citizen-led initiatives. Cynthia Echave – Project Coordinator at Euro-Mediterranean Economist Association (EMEA) – will moderate the session that will bring together speakers representing different stakeholders and regions.
The panel discussion will be composed of five speakers bringing in their knowledge and expertise: Kostas Komninos – General Director, DAFNI – Network of Sustainable Greek Islands –; Maja Jurišić –President, Island Movement –; Lisanne Raderschall – Policy officer, Organisation for Economic Co-operation and Development (OECD) –; Mauricio O'Brien –Institutional Relations Advisor, EUROCROWD –; and José Miguel Granados, Technical Coordinator, CooperaSE.
The roundtable will be held online within the framework of the EUSEW extended programme that will take place in the week of 19-23 September – prior to the EUSEW 2022 policy conference. These online events offer a further opportunity to promote and engage with issues surrounding renewables and Europe's energy transition.
How to attend?
The roundtable will take place on the EUSEW 2022 online platform. To attend our session, you first need to register on the platform by following this link. Once registered and logged in, you will be able to register to attend adding our session to your own agenda for the EUSEW. If you register online and in-person participation, you will be able to come and meet us on the 27 September at the EUSEW energy fair.