Efficient Buildings Living Labs: Innovative solutions for energy rehabilitation schemes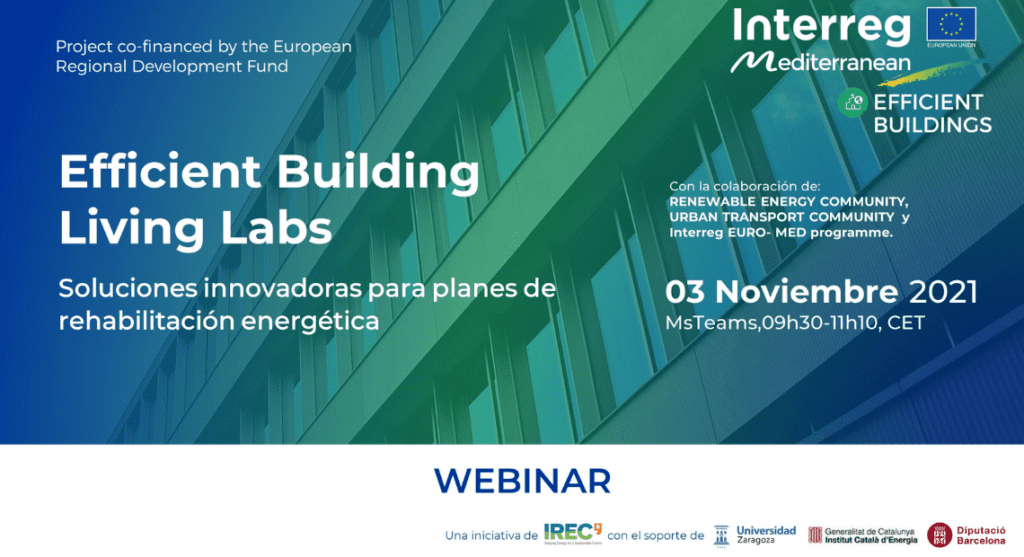 Wednesday, 3rd November 2021
9:30 – 11:30 CET
Online in Spanish
The Interreg MED Efficient Building community will hold an online webinar on the 3rd of November 2021 in collaboration with the Renewable Energy community to highlight innovative solutions for energy rehabilitation schemes.
The Interreg MED Renewable Energy community will present the innovative solutions that the ETU Initiative Flagship Cases are applying to optimise their energy efficiency. Cynthia Echave (EMEA), Project Manager of the Renewable Energy community will participate in the webinar to present the tools and activities developed withing the community.
The webinar aims to disseminate the activities developed during the Efficient Building Living Labs training course: Innovative solutions for energy renovation plans. You will discover the potential of the tools available to optimise and accelerate the implementation of long-term renovation plans. Two case studies of implementation carried out during the course will also be presented during the session.
The Interreg MED Urban Transport community will also take part in the webinar, presenting the work done within their community to support the green energy transition in the Mediterranean region. Curzio Cervelli, from the Interreg MED Joint Secretariat will close the session by presenting the next steps of the EURO-MED 2021-27 programme.